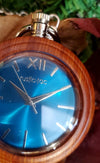 The OCEANIC pocket watch from the Rustic-Tac collection displays a chic and luxurious style. The alliance between red sandalwood and its dial, with its colors evoking the ocean, gives this pocket watch a captivating aura, reminiscent of the great legendary ships.
By choosing the Rustic-Tac OCEANIC pocket watch, you are opting for an accessory that transcends time and trends. Its timeless design and distinguished look add a unique dimension to your style, reflecting the maritime heritage of lost boats. Be seduced by this wooden pocket watch from Rustic-Tac, a symbol of sophistication and adventure.
Dial width: 48mm

Drink :
red sandalwood
Movement/Mechanism:
Japanese Quartz
Glass:
 Acrylic
Water resistance:
 Splash resistant
Pile:
sr626sw or 377
Weight:
40g
Personalized engraving:
Available (additional fees apply)
HOW TO ADJUST MY WATCH ?

There are 3 ways to adjust your wooden watch
SIMPLE MECHANISM
INDICATIONS AND BUTTONS
1. Hour hand
2. Second hand
3. Minute hand
4. Adjustment - Normal
5. Adjustment - Hour
SETTING THE TIME
1. Pull the crown out to the 1st position.
2. Turn the crown to set hour and minute hands.
3. After the time has been set, push the crown back to the Normal position
DELIVERY
Fast delivery
Easy 30 day returns and exchanges
RETURNS
We have a 30-day return policy, which means you have 30 days after receiving your item to request a return or exchange. In order to be returned, your item must be in the same condition as you received it, i.e. it must not have been worn or used, be labeled and in its original packaging. You will also need the receipt or proof of purchase. Refer to the Returns & Exchanges page for the complete return procedure. Items returned to us without a return request will not be accepted.
OCEANIC
wooden pocket watch
Montre de poche Oceanic
Le bois est magnifique et très léger. Les inscriptions de Jocelyn sont toujours impeccables. J'ai déjà acheté plus de 7 montres et je n'ai jamais regretté mes achats. Ce sont de très beaux cadeaux à offrir et unique.
Superbe!
Vraiment belle, de plus l'inscription à l'arrière a été réalisée avec beaucoup de soin. Merciiiiii
Belle qualité à prix raisonnable
Super satisfaite du service rapide et de la qualité de la montre. Encore plus belle en vraie que sur la photo. Prix tout à fait raisonnable à comparé de ce qu'on retrouve ailleurs. Pas mon premier achat chez Rustic-tac et assurément pas mon dernier!